Dr. Stephens is considered one of the best breast augmentation plastic surgeons in the Northwest and one of the nation's premier plastic surgeons in breast implant procedures and techniques. His vast experience with thousands of happy breast augmentation patients and reputation is well-known throughout the community. Medical professionals and celebrities, as well as their friends and family members, praise his beautiful results and often seek out his care. He is well-known for his desire to understand and discuss his patients' wishes and aspirations as well as his intimate, intuitive understanding of how breast implants and breast tissue work together to shape the breast. His artistic sensibility and understanding of how breast size relates to the proportion of a woman's silhouette as well as her self-image and emotional well-being is an important consideration during your consultation.
Breast Implant Types: Saline, Silicone; Now Gummy and IDEAL; Choosing the Right Implant for You:
Historically, there are two basic types of breast implants: saline and silicone, each of which has an outer shell made of silicone but different inner substances.
Silicone
These implants are filled with a silicone gel. They are said to provide a softer, more natural feel than saline implants with less rippling.
Saline
These consist of a silicone shell filled with a sterile saline solution. Since the improvement of silicone gel implants, we see fewer saline implants being used.
Cohesive Implants
All current FDA-approved manufacturers in the U.S. carry several types of cohesive silicone gel implants, including the proverbial "gummy" implant. Dr. Stephens prefers the softer version of the Sientra® cohesive implant due to the superior ability of the gel to stick to itself and stay within the breast implant if the shell is broken. This and the superior shape of these implants and stronger materials will provide for better implant durability than traditional gel or saline implants.
Implant Manufacturers
Three companies manufacture FDA-approved breast implants: Allergan™, Sientra®, and MENTOR®. Dr. Stephens uses mostly Sientra® cohesive implants, and has been a long-term user of the Allergan™ Implants.

---
Sientra®
Sientra® manufactures silicone implants in both round and teardrop shapes as well as smooth and textured options. They currently have the best warranty for failure and capsular contracture in the industry and only sell to ACGME board-certified plastic surgeons. Their silicone gel effectively maintains its attachment to the breast shell in case of a rupture while being one of the softest and strongest cohesive implants in the industry.

---
Allergan™
These consist of a silicone shell filled with a sterile saline solution. Since the improvement of silicone gel implants, we see fewer saline implants being used.
Sientra® Implants
Until recently, women have been limited to only a few options for breast implants in the United States by only two manufacturers. However, Sientra® is a new kind of breast implant company that caters exclusively to board-certified plastic surgeons. Sientra® offers diversified choices for silicone breast implants featuring several profile options for a customized look.
Sientra® provides a form stable, or "gummy bear", style implant. This is a cohesive silicone gel implant where you don't have to worry about silicone leakage occurring. This implant is offered exclusively to board-certified plastic surgeons. The unique design of Sientra® includes strong integration between the inner gel and the outer shell. This can help prevent deformities in the upper pole of the implant and makes them softer and more resistant to ruptures.
The Sientra® brand has been developed with over 33 years of advanced product testing and research and are FDA approved. Sientra implants are Made in the USA, have the lowest rupture rates and the strongest safety profile on the market. They are available for women who wish to undergo breast augmentation and/or breast reconstruction.
Sientra® offers a diversified list of different breast implant shapes and sizes, with either smooth or textured surfaces to suit most patient needs. Dr. Stephens can help you decide which implant will best suit your individual needs. Round implants typically provide more volume in the upper breast area. Anatomically shaped breast implants are designed to match the anatomy of your chest wall and natural tear-drop positioning of a natural breast.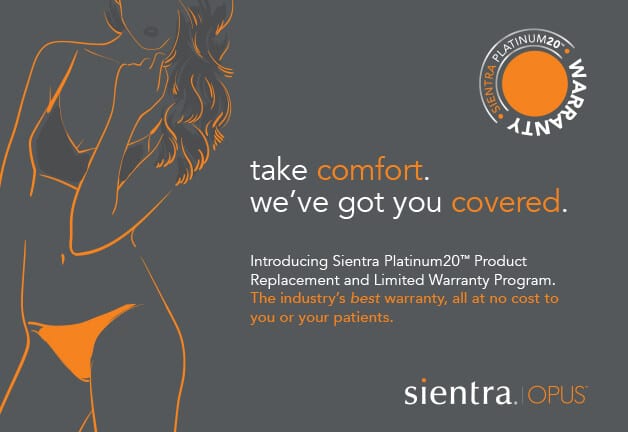 More Complete Coverage. More Peace of Mind.

Sientra®'s Limited Warranty
Sientra® is committed to patient safety and cutting-edge innovation. This philosophy began long before they developed their Sientra® breast implants. Remaining faithful to that commitment with exacting production standards allows them to provide patients with one of the best warranties in the industry.
Learn more about Sientra® Breast Implants cohesive gel in this video
Sientra® silicone breast implants use a cohesive gel matrix which will not bleed out in the event of a rupture or implant shell failure.
Your Sientra® Limited Warranty and Product Replacement Program includes:
Platinum 20
It is the most comprehensive warranty, longest length of coverage with the highest financial assistance available amongst all implant brands.
Safety is our number one priority.
Rupture is a 20 year warranty with up to $5000 in financial assistance.
Capsular Contracture is covered for 20 years (and $2000 in financial assistance if it happens within the first two years).
The VECTRA® XT 3D System
Through the process of measurements, implant trial sizes, and the VECTRA® 3D imaging system, you will leave your consultation with confidence about your implant choice. The VECTRA® system uses six high-resolution cameras to create three-dimensional images of you, and the state-of-the-art software program displays what your potential results may look like using implants of different sizes. Dr. Stephens wants you to have a good idea of your ultimate implant size and shape to achieve a natural and attractive appearance in line with your ultimate goals and harmony with the rest of your frame.
Your Breast Procedure; Our Ambulatory Surgical Suite (ASC)
Dr. Stephens performs all of his procedures, including breast augmentation procedures, with his experienced and talented team in our beautiful, state-of-the-art, state-licensed AAAASF-certified ambulatory surgical suite (ASC) located in our office for your privacy, safety, and convenience! Our board-certified anesthesiologist is an ACGME board-certified physician and is uniquely experienced and an expert at outpatient cosmetic surgical procedures. Our anesthesiologist utilizes gentle and fast-acting light general anesthetic with the latest and safest medications and techniques, ensuring that you will not feel anything during your procedure and that you will have a fast, comfortable, and uneventful recovery before leaving our office. In addition, during your procedure, our anesthesiologist will give specific medications designed to reduce pain following your surgery. You will also be cared for by one of our skilled, thoughtful, and attentive recovery nurses after the procedure.
Our team is serious about our business and is committed to providing a safe, pleasant, and comfortable experience. Most of our patients do not require much medication following their procedures.
Your Recovery After Your Breast Augmentation Procedure; Minimizing Pain and Ensuring a Quick Recovery
Our office is committed to providing a pleasant, comfortable, and fast recovery. We have designed a specific, comprehensive recovery program to help you get back to your activities as soon as possible. It is less than honest and a bit disingenuous to say that you will have a "24-hour recovery" with early unlimited activity; this would be dangerous! We have a "fast recovery program" to get you back to your activities as soon as reasonably possible, and you should be able to return to most quiet activities in 24 to 48 hours, return to work within one week, and do non-chest-bearing and non-impact exercises in two to four weeks.
A comfortable and fast recovery begins with a good and careful surgical technique. Dr. Stephens is particularly careful in performing a gentle and precise procedure with minimal retraction force and gentle dissection. Utilizing a Keller Funnel® allows him to place the silicone in the breast "pocket" with minimal force. The implants are placed using a "dual plane" dissection, which requires the pectoral muscle to adapt to the implant over time, so this is different than the recovery with the implant placed above muscle; however, this technique provides for a much superior long-term result with reduced long-term complications.
Your recovery: An avid athlete and exerciser himself, Dr. Stephens has developed a "breast implant recovery protocol" that utilizes gentle stretching and early range of motion exercises and other therapeutic activities to facilitate a fast and comfortable recovery. This reduces the need for powerful pain medications while substituting effective therapies, muscle relaxant medications, anti-inflammatory medications, and tailored pain medications. Neither drains nor pain pumps are necessary, nor are heavy bandages; only a simple bra and "breast strap" should be worn lightly and comfortably. During your recovery, we will guide you from day one, with specific short- and long-term instructions to educate you on the optimal recovery and long-term care of your implants. You are always free to visit or contact our office following your breast implant procedure regardless of the date of your official one-year follow-up visit if you ever have any questions or need to be examined.
"I wish I could give this more than five stars! I met with several surgeons in the area before deciding on Dr. Stephens for my breast augmentation and let me tell you, I am so happy I did. I have always felt self conscious about my breast size and thanks to Dr. Stephens, I have a new-found confidence. The results are beautiful and exceeded all my expectations. I had a lot of anxiety about surgery and the entire staff, Dr. Stephens and Dr. Brandford made me feel right at home."
I would definitely recommend Dr. Stephens to my family and friends. There is a reason he is the best of the best!
---
"Dr. Stephens and his team were AMAZING! They truly care for your needs and the outcome was perfect! I couldn't have gotten a better surgeon for my breast augmentation! They were very detailed, always made sure that I knew and understood everything I was going to go through."
---
"Dr. Stephens and his staff have been amazing throughout the process of my breast augmentation. It is obvious how good the dr is at what he does during the consultation. He doesn't just give you what you want, but instead informs you of what will look best. As someone who works in the medical field, I often have high expectations and can sometimes be overly critical. I have nothing to criticize. The entire experience has been perfect. My breast look better than I even expected."
---
"From start to finish, Dr. David Stephens and his staff have been amazing. Karina at the front desk is always so inviting and on top of it. Nurse Rosemary is very explanatory and caring. Lori the office manager is organized and easy to talk to. I cannot express how grateful I am with my breast augmentation results, and how amazing Dr. Stephens' work is! Thank you to all the staff for making this such a positive experience."
Schedule A Consultation
Frequently Asked Questions
Breast augmentation is performed using a light, short-acting general anesthesia, which is administered by our anesthesiologist. Dr. Stephens will place a nerve block around the breast during your procedure as well.

Breast augmentation with saline implants can be performed for patients 18 years and older; however, silicone implants are FDA approved only for patients aged 22 and older. Silicone implants may be used in women under 22 years of age, but it is considered "off label" and the manufacturer's warranty is null and void, so this is not recommended.

It is a very common misconception that you should have your implants replaced every 10 years, as studies show that only roughly 10 percent or so of breast implants have been disrupted from implant shell failure, or "ruptured," so why replace the 90 percent that are still perfectly good?! There is no particular time that an implant will fail, only a statistical estimate, but we think that implants fail around one percent a year. However, we don't have good data after 10 years from the current clinical studies. We recommend an MRI study or high definition ultrasound at five years, less than 10 years (for warranty purposes), and every three years after that. It is possible that your implants will need to be replaced in your lifetime, so it is important to monitor them carefully. Keep your manufacturer's warranty and your implant information in your files to refer to, as the warranty is provided specifically by your manufacturer.

Breast implant warranties are provided by the breast implant manufacturer and typically cover the cost of a replacement implant and a portion of the replacement surgical costs for implant failure in the first 10 years. However, the most recent Sientra® warranty is the best in the industry for both implant failure and capsular contracture. The other manufacturers also provide a limited warranty for capsular contracture. Dr. Stephens and his staff can provide copies of these warranties on request and discuss the details of these warranties during your consultation. Warranty information is on the manufacturers' websites as well. These warranties change all of the time, so it is best to keep track of yours on file or call the office if you have questions. There are no warranties for other re-operative procedures; however, Dr. Stephens provides the option of a reduced fee for this within the first year after your surgery, depending on the cause and situation.

Yes, to a variable degree, but this hasn't increased the risk of breast cancer nor the risk of delayed diagnosis of cancer in clinical studies. Breast implants in the submuscular or "dual plane" interfere much less with mammography than above-muscle implants or those in the subglandular location. During your mammogram, your technician will do a special view called the "Eklund View" to bring the implant behind the breast tissue to minimize the areas that are not seen. Also, the newer digital and 3D mammograms are much better as a screening tool. Newer high-definition ultrasound systems are also much more sensitive in questionable areas as an adjunct to mammograms. MRI is a very sensitive way to assess for early breast cancer but is faulted on having false positives on occasion, where they see a suspicious area that turns out to be normal with biopsy.

As with any surgical procedure, there are some risks involved with breast augmentation. We take every precaution necessary to make sure each patient is in a safe environment. While complications are uncommon, they can include:

Unfavorable scarring: We rarely see poor scarring after breast augmentation, and this is typically genetic and racially based, not because of the surgical incision per se. We strongly recommend scar care with Biocorneum® and pigment lighteners for all of our patients and follow-up care for the first year to assess how the scar is doing, among other things.
Reactions to anesthesia: This is very rare; there is a rare genetic mutation to general anesthetic that most people inherit from their relatives, so this history is critical to know, but otherwise the risk of a catastrophic event from general anesthesia is actually less than from sedation (a well-known secret in the industry).
Bleeding: Hematomas, or bleeding in the breast pocket, requiring exploratory surgery is extremely rare in breast augmentation. However, it is important to be careful to limit impact activities in the first few weeks following your procedure so that you don't increase your risk of this. Hematomas have rarely occurred in our practice, but the ones that did happen were at two or so weeks out after the patient felt so good that they engaged in too much activity.
Infection: This is also rare; we utilize a specific skin preparation protocol that is used in the hospital in orthopedic joint replacements and cardiac surgery that we will teach you about in your pre-op appointment. We think that this is also one of the reasons that we also have an extremely low rate of capsular contracture.
Changes in breast skin or nipple sensation: While there is usually a temporary reduction and sometimes a temporary increased uncomfortable sensation following breast augmentation procedures, the risk of permanent loss of sensation to the breast or nipple is extremely rare. There is a higher risk if very large implants are used, but even then, the risk of permanent loss of sensation is rare. As the sensation recovers, it is lost temporarily; it will often come back with shooting sensations or minor painful sensations for a few weeks or so. On rare occasions, the return of sensation may take months to return but typically does.

Capsular contracture is when the normal response of the scar tissue surrounding the breast implant becomes thicker and tighter around the implant, causing the implant to feel harder and move upwards while becoming round and smaller. It is slightly firm in mild cases and becomes increasingly firmer and with more breast distortion, to extremely hard in more severe cases. The recommended treatment is surgery with complete removal of the capsular scar tissue and existing implant, replacing the implant with a new one.

Recently, there is good evidence that capsular contracture is a response to normal skin bacteria contaminating the surface of the implant. The bacteria sends a biological signal the capsular tissue to produce the excessive scar response. The risk of contracture runs as high as 10 to 15 percent in some studies and has double to triple this risk when the implant is placed above the muscle. Fortunately, the risk is now between one to two percent with modern use of antibiotics, ultra-sterile techniques, skin preparation with thorough antiseptics, and implant pocket irrigation with antiseptics and antibiotics. Dr. Stephens does this as well as using the Keller Funnel®, where the implant is protected from ever touching the skin. This has been shown to reduce the risk of capsular contracture to less than one percent in his practice regardless of the placement of the incision. While studies have shown that the risk of capsular contracture is higher when the incision is through the areola region or axilla,we haven't seen this in our data although we see less than one percent risk of this in our practice.

To reduce the risk of capsular contracture, in addition to the above steps during surgery, avoid implants above the muscle where possible and instead use a dual plane technique; gentle surgical technique is critical to reduce bleeding and tissue trauma. Do the stretching and implant displacement exercises that we will discuss with you. While we currently recommend vitamin E post-operatively, there are no studies of its efficacy.

Dr. Stephens highly recommends that his patients take pre-dental antibiotics prior to any dental procedures and teeth cleaning. There is clear evidence that capsular contracture can be caused by mouth bacteria during these activities, and we have seen this from some of our consultations as well.

Women who have never had their breasts develop find it hard to get clothes to fit properly and may not feel feminine or confident in their appearance. They want their breasts to be proportionate to the rest of their body. Other women may have lost all of their breast tissue in breastfeeding and the rapid weight gain and loss of pregnancy. There are women whose breasts are misshapen, asymmetrical, or have deformities that are only correctable with breast surgery and implants. Of course, the woman must be in good health, understand the long-term care, and agree to be proactive in the care of her implants.

The positive effects of breast implants are not to be minimized in that there is a heightened self-esteem and pure joy that they provide women who look and feel more feminine and confident in and out of their clothes. There are multiple studies that show that women have a greater than 95 percent extremely satisfied rate following breast augmentation.

It is important to recognize that breast augmentation is not a "one-and-done" procedure. While it is rare to get an infection or breast pocket hematoma, capsular contracture can occur, requiring surgery in one to two percent or patients with good practices. Implant failure requires implant replacement surgery in 10 percent of patients after 10 years. Implants can move out of position and require reinforcing procedures with repairs, meshes, or other materials, as they can thin out the breast tissues over the years, particularly if the implant is placed above the muscle. Often a painful breast is the result of the implant moving towards the armpit and pressing on nerves along the side of the chest or because of capsular contracture.

It is important to recognize that a ruptured silicone implant may be completely silent, which is why we recommend periodic MRI or high-resolution ultrasound of the breasts to assess for rupture. With the newer highly cohesive implants, the gel material may completely stay within the broken shell, but the broken barrier will result in a gradual seepage or very minute amounts of silicone that is not a risk of disease or your health but may accumulate in lymph nodes if let alone for years, so MRI is important with silicone implants. Saline implants will just leak salt water and the implant will go flat with obvious change of the size and shape of the implant.

Dr. Stephens currently recommends the smooth round-shaped silicone implants for the vast majority of women. He has tried all of the various types throughout the years and finds that these provide the best combination of natural softness, feel, and shape with the least amount of complications of all implants. They have the lowest failure rates and equal capsular contracture rates as textured implants when placed using the dual plane technique.

Saline and even the IDEAL® structured saline-filled breast implants are not as soft and pliable nor as natural looking and feeling as the newest cohesive silicone gel implants. Saline might be a good alternative for a woman who is unsure about the health risks of silicone gel and does not like the prospect of having imaging studies done such as MRI studies with the extra expense. Standard saline implants are less expensive than silicone implants; Over 90 percent or more of our patients choose the newest silicone cohesive implants, and we rarely use the standard saline implant these days.

There is new evidence that the macro textured Allergan implant has a significantly higher risk of a type of breast lymphoma called BIA-ALCL. They are found in the teardrop-shaped "gummy bear" silicone and textured round implants. The risk of ALCL with the Allergan textured implant is somewhere between one in 3,000 (seen in Australia) and one in 30,000 women. It is treatable and curable when caught early with removal of the breast capsular tissue. It presents with an enlarging fluid-filled breast. Although the FDA has not requested taking the macro-textured breast implant off of the market at this time, we do not recommend Allergan textured implants for our patients. The textured Sientra® implant have been shown to have very few cases of BIA-ALCL.

Breast Implant-Associated Anaplastic Large Cell Lymphoma (BIA-ALCL) is a rare type of lymphoma that is rarely found in the breast normally. It has recently been increasingly associated with macro-textured implants and is associated with a rapidly enlarging fluid collection called a seroma that typically occurs several years following breast augmentation. The risk of ALCL in the US is about one in 30,000 and as high as one in 3,000 risk in some areas of Australia. There have been no cases in Japan that we know of. The Allergan macro-textured implant and a type of polyurethane coated implant (not FDA approved to use in the US) is most commonly associated with BIA-ALCL, but it is rare in the other textured breast implants. ALCL has been found associated with other types of implants as well, such as orthopedic prosthetics.

If you experience an enlarging breast, it is important to see Dr. Stephens immediately to be examined. If ALCL is a consideration, you will be referred to a breast radiologist for assessment and further investigations. If caught early, BIA-ALCL is treatable and curable with the removal of the implant and complete removal of the breast implant capsule (total capsulectomy). However, if ignored, ALCL can be deadly.

We like to say that there is a perfect fit of a breast implant for your breasts. It is much like the fit your hand has in the ideal glove or how your foot should fit nicely inside of your shoe. There is the "base width diameter" (the "footprint," or shadow) that your breast has on your chest. If the implant width exceeds this diameter by too much, it will be sitting in your armpit and under you collarbone, but if it is too narrow it won't fill out your breast enough to give it shape and there will also be too much distance between the breast and loss of cleavage. As breast implants of any given profile get larger, they get wider, and as they get smaller, they get narrower; a moderate profile implant that is 400 cc's is wider but doesn't have much difference in profile or projection than a moderate profile 300 cc implant.

There is a "perfect fit." We like to call it the "Goldilocks Syndrome:" not too big, not too small, but just right! A breast implant that is sized carefully will look good and natural. Once the "base width diameter" is established, there are considerations of the type of profile or projection to use based on the woman's body shape, height, type of torso, breast shape, breast firmness, and her realistic desires and expectations. Finally, the VECTRA® 3D imager will show a virtual implant inside of the three-dimensional image of your body to provide an idea of the size and shape of your breasts.

Long-term studies of breast implants show that there is not any higher risk of breast or any other cancer in women with breast implants than in women without implants. They also show that the cancers are not detected later nor are they more aggressive.

A broken saline implant will deflate within a period of days or weeks, and the salt water just dissipates into your tissues as you notice the breast deflating and flattening. It is not an emergency to get it fixed, but waiting too long will cause the capsular tissue around the implant to collapse and may require additional surgical procedures at the time to reshape the capsular tissue that may collapse to be released. Our bodies are partially made of saline, so it does not pose any health risks.

A broken, or "ruptured," silicone gel implant may silently leak from the outer shell into the breast pocket, but it rarely goes into the breast tissues unless it is a very old implant, it has been leaking for a very long time, or there has been some trauma. We call this a silent rupture, and this is why we recommend periodic MRI or high-definition ultrasound studies to assess implant integrity. The silicone gel may leak out of the implant in microscopic or nanoscopic amounts over time, making it important to replace a broken gel implant, but there is no evidence that the silicone gel causes any illness or disease. It is difficult to impossible to diagnose a broken implant by examination, but a change in breast shape or capsular contracture may be a clue to consider a "ruptured" implant. It may not be seen by mammography, or even ultrasound, but can usually be identified by high-resolution ultrasound and particularly MRI.

The newest generation of highly cohesive silicone gel implants, particularly from Sientra®, are just slightly firmer than the old silicone implants, but they are very well-attached to themselves and to the implant shell. The gel has been shown to not escape the implant shell when they break. Silicone gel implants do not cause any implant-related illness when the shell breaks.

Mammograms are recommended to screen for breast cancer after breast augmentation as in non-augmented breasts. The technician should ask you if you have implants and will do special techniques to bring the breast tissue in front of the implants. Radiologists may recommend additional studies depending on the breast tissue density and family history of breast cancer. There are different recommendations as to when to begin to get mammograms based on family and personal history, but in general, the consensus among plastic surgeons is that mammograms should be done by 40 years old prior to surgery without specific risk factors. It is important to provide a thorough history of any breast conditions, biopsies, and family history of the risk of breast cancer.

While we do not subscribe to the "24-hour rapid recovery" philosophy due to concerns of confirmation bias, we see that our patients experience a pressure in their chest or a feeling that they are breastfeeding and the milk is coming. We have developed a combination of medicines to help with this, including a combination of acetaminophen, a muscle relaxant, providing specific medications and techniques in surgery, and early activity within reason that includes early stretching and gentle-fitting garments. We provide narcotic pain medicines for breakthrough pain that can occur at nighttime in the first week, but many patients don't find a need for this. Ibuprofen (Advil® or MOTRIN®) or naproxen (Aleve®) can be used after five days and work well as pain relievers.

This depends on the type of work you do. Most women can return to non-physical work in a week, possibly sooner, following their implant surgery. If you do very physical work, you may need to do some planning or return to light duty for several weeks following the procedure. We recommend to be very careful of extreme activity for eight to 12 weeks following implant surgery, as this may cause the implants to slip out of the pocket and bottom out or move into the armpits.

We recommend doing light activity immediately following your breast augmentation procedure that includes light walking and stretching. Avoid any exercise that could increase your blood pressure or pulse rate, and avoid using extreme positions in the first two to three weeks to avoid the risk of bleeding. You should be able to begin light cardio exercise in three to four weeks so long that you keep your effort around 50 to 60 percent of heavy effort and it is non-impact. This may include elliptical or stationary bike or walking on a treadmill. You may increase your walking effort over the first month to six weeks and even begin light running at this time. It is important to avoid heavy impact exercise for eight weeks and to not work your pectoral muscles for three months in order to allow the supportive scar tissue capsule to mature. This is the only thing that is supporting your implants, so it is important to be careful with this.

Believe it or not, we get asked this question a lot! Sexual activity, if done gently, may begin as soon as you are comfortable as long as you keep your pulse rate within reason and avoid putting stress on your chest.

It is important to use your back and legs when lifting a child or infant and keep your arms close to minimize engaging them and not to let them get outstretched. If you are careful, you may lift a cooperative and quiet child as much as 35 pounds or so. Do not try to bend too far or stretch to pick up a child such as from a car seat where you are overextended or from a playpen where you have to stoop a lot. Use your core to carry and lift your child and keep your arms quiet.

Your breasts will typically look high in the first several weeks to even months following your procedure depending on their projection and the tightness of your tissues. This is because although your breast implants may be the proper size, the upper part of the breast implant pocket below the muscle in the dual plane procedure is much looser than the lower part of the implant pocket where the tissue is tighter, so the implant needs to settle and stretch out the lower area. The breasts are also swollen and the implants are tightly "squished" by your tissues, so this takes time to relax and for the shape to develop. It is like a poorly focused picture that becomes increasingly sharp as time goes on. Overall, it takes six months to a full year to see the final result, which is why we like to see you for a one year follow-up.

You can shower in 48 hours following your procedure. Take off and replace the gauze dressings but do not remove the flesh-colored tapes on the incisions. We do not recommend taking a bath in the first few weeks following your surgery.

We typically see you one within a week or so following your procedure followed by a visit at one to two weeks, followed by two weeks to one month, three months, six months, and one year. We are available to see you if there are any problems following your procedure at any time. There are no drains in breast augmentation surgery, but the incisions need to be assessed and any sutures removed, if necessary.

We are available to see all and any of our breast implant patients indefinitely at no charge after their breast augmentation if they have any questions or concerns, and we are available to answer any questions at any time following your breast implant procedure.

You may go in the sun immediately following your procedure as long as you keep your breasts covered in sun-resistant clothes and beachwear and use a good sunscreen applied frequently. Keep the incision out of the sun or UV rays for a year, or more if you have a darker skin type. We recommend Biocorneum®, which has sunscreen in it for incision care, but be sure to block out the incision from direct contact with the sun.

As long as you are not taking narcotics, you may have a small amount of alcohol after a week. It can run a higher risk of bleeding and should be avoided initially.

Smoking affects healing. There is no consensus regarding the timing of stopping smoking, but suffice it to say it does affect the body's healing ability. The effect is not as profound in a small breast implant incision, but as a precaution, heavy smoking should be avoided for several weeks, and any smoking will theoretically slow down wound healing. Smoking prior to anesthesia will affect the irritability of the lungs and respiratory system and should be avoided for one to two weeks prior to your surgery to reduce this effect.

We provide a post-surgical bra for your breast augmentation surgery that opens to the front to allow for easy access to your incisions. In addition, we provide a band above your breasts to hold them in position and to provide gentle resistance to the normal tendency for the implants to rise up towards the neck. As soon as you are comfortable, you may go into any bra as long as it doesn't push up the breast implants. Underwire bras may press against the breast fold and may be uncomfortable, and some may push up, so this is not recommended if they do. A sports bra with a nice cup often works well after the first few weeks. We do not recommend purchasing a lot of expensive bras for three months or until the breast implants have settled and the swelling has diminished.

We do not recommend traditional breast massage as defined by moving the implants all over, as it has not been shown to have any benefit in reducing the risk of capsular contracture (see capsular contracture information above). We recommend simple pocket stretching procedures to stretch out the lower part of the breast implant pocket to allow the implant to settle and relax the lower part between the nipple and the breast fold below.

Movement and stretching of the chest and arms has been shown to speed up the recovery and reduce pain and tightness following breast surgery. Lack of movement causes muscle stiffness, so it stands to reason that gentle movement and stretching will speed up recovery. We recommend gentle stretching exercises of the chest muscles through arm movements to open up the chest and shoulder girdle. We will show you these in the first week or two following your procedure. They are very effective to reduce pain and speed up the recovery phase.

It is totally normal for the breasts to look different in the first weeks to even months following the procedure. Dr. Stephens points out to his patients that no two breasts are exactly alike and the swelling from the procedure will often accentuate these differences, which settle and become more identical as time passes. Sometimes, the smaller breast may paradoxically look larger following the procedure until time allows the skin and tissue to relax around the implant.

If there is a significant difference between the breasts in the first few weeks after the procedure, especially over a short period of time and this is accompanied with pain, this may be bleeding in the breast pocket causing a "hematoma" that requires surgical exploration to stop the bleeding. Unusually, increased pain, high fevers, redness, or any discharge from the incision should be assessed by the office. A low-grade fever following anesthesia is normal. Any unusual or unanticipated symptoms should be reported to the office. We would rather hear from you than have something get worse that could have been addressed in a timely manner.