Shakespeare famously said that "the eyes are the window to the soul," but throughout history, the nose has been an important part of our "character," because it is so central to our face, both literally and emotionally. The nose can reflect beauty and strength; wisdom and intelligence; cuteness or coyness; sluggishness or slovenliness; even deceit or dishonesty. It is said to set the "character" of the face we reveal to others within seconds.
Model
Your Rhinoplasty Consultation
During your consultation with Dr. Stephens, he will take the time to personally meet with you and listen to your concerns about your nose, as he is interested in your desires and goals regarding the specific changes you wish to make. The shape of the nose is very personal for each individual, and every patient has an idea of the changes they want to achieve as well as the features they wish to retain. There are possible ethnic considerations that may need review to maintain desirable characteristics. Dr. Stephens will discuss possible changes and set realistic expectations.
What Are Your Nasal Concerns
Dr. Stephens will ask you what your major concerns are with your nose, including:
Is your nose too big? Where?
Is there a bump or hump you don't like?
Is the tip too big?
Is the base of your nose too wide?
Is it crooked? Where?
Is the bridge too big? Too small?
Does the tip plunge? What about when you smile?
Does the tip lack definition? Is it too square or round, or even too pointy?
Can you breathe easily? If not, where is the difficulty?
What about the skin over your nose?
If you are a woman, is your nose too masculine?
Does your nose fit your face?
Dr. Stephens will review these concerns with you and then thoroughly assess your nasal structure on the outside as well as an internal exam. You will have a VECTRA® 3D image taken of your nose that you can review with Dr. Stephens. He will perform some 3D imaging simulations and review these with you to discuss your goals further to make sure they are realistic and that you understand what your nose will look like after the procedure. These are reviewed again during your pre-op visit.
Your Recovery After Rhinoplasty
Following your nose surgery, you will have an external splint placed over your nose, and a drip pad below your nostrils at the top of your lips. Typically, you are able to breathe a bit through your nose, as we usually avoid nasal packing unless there is work done on the turbinates or more significant work on the septum requiring internal splints. You will need to sleep with your head in an elevated, reclined position so that your head is facing the ceiling. You may place ice over your eyes, but you must avoid any pressure around your nose. There will be some discomfort, swelling, and bruising, but the pain is minimal. Most patients take TYLENOL® or at worse, a few narcotic medications.
After five to seven days, the splint is removed, the nose is cleaned, and the tiny sutures over the columella are removed. The nose is re-taped for a few more days. If there has been a significant reduction of the size of the nose, the tape may need to be applied for a longer period of time. Nighttime placement of tape may be necessary over the next few weeks.
Many patients can return to work one week following their procedure, knowing that there may be some bruising around the eyes and mild swelling. Most bruises are gone in two to three weeks. There is typically some numbness in the nose, particularly in the tip, for a few months but this usually will dissipate. Quiet activities can resume immediately, but you should wait a month before resuming strenuous exercise and avoid contact sports for three to six months (consider wearing a splint if you do these).
What Risks Are Involved With a Rhinoplasty Procedure?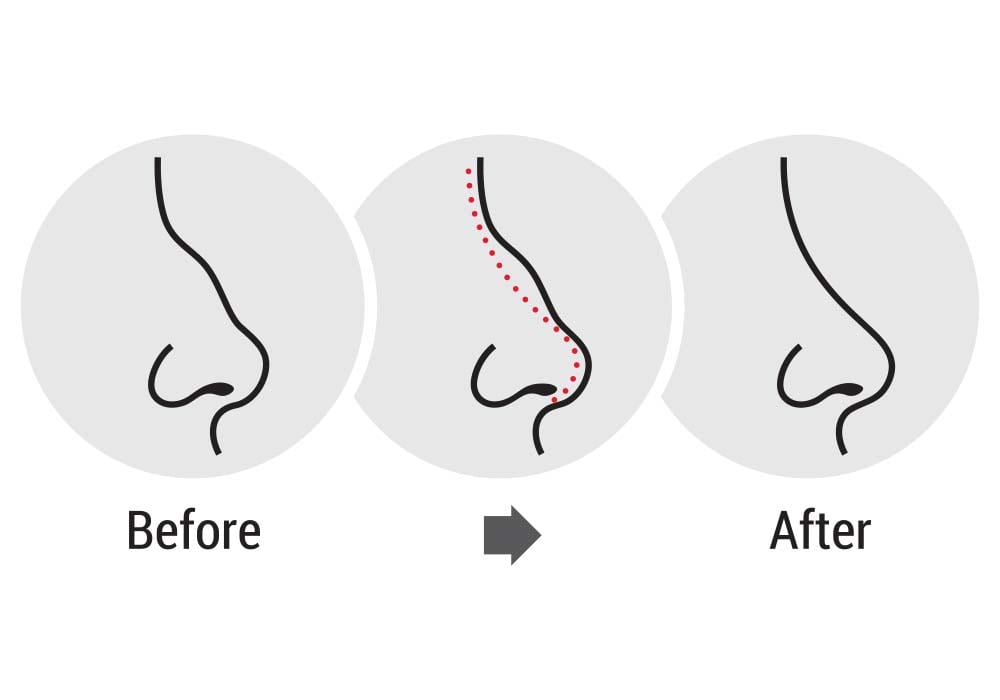 Risks from the surgery, while rare, include severe postoperative bleeding requiring re-operation, infection, prolonged swelling, septal hematoma, septal fistula, minor irregularities, skin changes or recurrent deformities, or septal deviation. The risk for re-operation is less with the open rhinoplasty method than the closed approach and runs anywhere from five to 15 percent when performed by an experienced surgeon.
Anyone who says that they don't have to do revisions is being dishonest with you. Our revision rate is typically for minor concerns and is not common. Smoking needs to stop two months before and after the surgery, as this affects the healing process and can cause catastrophic problems to the skin if not complied with.
After the first month, the majority of the swelling should disappear, leaving the nose looking close to what you can expect later on. However, it may be many months or even one to two years before all of the swelling has disappeared. We like to say that it is like a picture that is gradually coming into focus as the refined features take time to develop, although they are typically seen initially. That said, you will immediately see changes in your nose at the time the splint is first removed. It is an exciting unveiling experience!
Over the first month following your surgery, we ask that you avoid blowing your nose and using any nasal decongestants that can impair healing. You may use a sterile nasal spray to irrigate your nose while you heal. Your breathing should enhance when the splints are removed, but it may take some time, several months or longer, to establish improved breathing.
We like to see you throughout the first year or two following your procedure. Your initial appointments are usually weekly and then monthly over the first three months, at which point we follow up with you at six months and a year.
Ethnic Rhinoplasty
Dr. Stephens chose to practice in the Northwest and enjoys seeing diverse patients from all over the world. Ethnic rhinoplasty refers to conducting nose surgery on patients from non-Caucasian origins, including African or African-American, Asian, Indian, Middle Eastern, Persian races, and Hispanic people, as well as the subtle variants of mixed origins within all of these races and in Caucasian races. As in any rhinoplasty, there are consistent goals in ethnic rhinoplasty, and a thorough understanding of the anatomic basis for nasal shape and experience in treating noses of different races is essential. Understanding the different techniques when dealing with an Asian patient who may want a stronger dorsum and tip versus a Hispanic or sub-continental Indian patient who wants to reduce her or his hump or improve a plunging tip requires knowledge, skill, and experience to identify and treat these concerns.
Dr. Stephens will ask about the three main things that bother you among the many possibilities (as noted above in primary rhinoplasty), then perform a thorough examination of your nose inside and outside. Then he will discuss a treatment plan addressing the specific areas of your concerns. A VECTRA® 3D image is obtained and reviewed with a discussion about your realistic goals and any other considerations.
Ethnic rhinoplasty has undergone many advancements with various new and effective surgical strategies as surgeons in the U.S. are seeing more and more patients from all areas of the world. Dr. Stephens especially enjoys the challenges and success in providing excellent results for all of his rhinoplasty patients, as he sees a large number of ethnic rhinoplasty patients in his practice.
Frequently Asked Questions
Who is an ideal candidate for rhinoplasty?
Patients who are in good health, whose noses have finished growing, and who are unhappy with their current nose structure can be a great candidate for nasal surgery. Schedule a consultation with Dr. Stephens to discuss your concerns further and see if you are an ideal candidate for rhinoplasty.
How old do I need to be to get nose surgery?
As long as you have finished growing, your age does not make a huge difference in whether the procedure is right for you. Patients with realistic expectations for their results can be ideal candidates for this procedure. You can discuss your concerns during your consultation with Dr. Stephens.
When will I see my results?
As the swelling reduces, your results become more evident. It typically takes a week for swelling to dissipate, and your nose should continue to heal over the following months. It can take up to one or two years for the final results to become permanent, so remain patient with your outcome, and it will continue to improve.
How long do the results last?
Once your nose has completely settled, your results should be permanent (barring any future accidents or incidents that may render your nose misshapen).
Take the guesswork out of Plastic Surgery
We are extremely pleased to feature the Vectra XT 3D system in our patient consultations. The results are spectacular and our patients are consistently amazed by the realism of the image!
Learn More